Michelangelo's Florentine Pieta's first major restoration has been completed
Michelangelo addressed the issue of la pieta (the death of Christ) throughout his life. The bandini pieta was one of his final pieces, which was made between 1547-1555 and intended as a monument to commemorate his burial. The work is not finished.
The Florence Opera Museum, the Bandini Pieta, is currently undergoing an extensive restoration that has removed the dust, plaster, and wax accumulated on its surface, which altered its extraordinary 3D-ness, plasticity, and colour.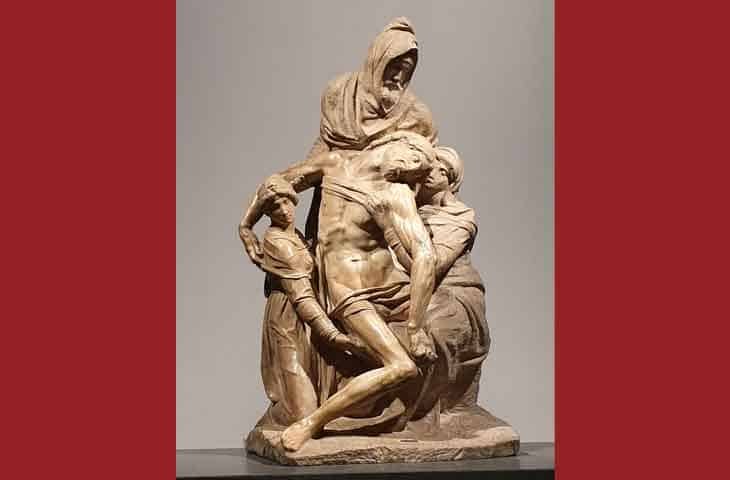 The restoration discovered that the sculpture was created using a defective marble because of numerous small cracks, including one in the base that could explain Michelangelo's decision to abandon the sculpture. This hypothesis is more convincing than the one circulated before this, which is that an older Michelangelo, who was dissatisfied with his outcome, attempted to demolish it by hitting it with the hit with a hammer. There's no evidence of the possibility of damage.
The work's restoration has also shown that the massive block of marble upon which Michelangelo made among his finest and ferocious and gruelling masterpieces is from the Medici quarry situated in Seravezza (Lucca) and not Carrara as had been thought.
The restoration, which was commissioned through the Opera del Duomo and possible due to donations from the Friends of Florence Foundation, was completed in November 2019 and was stopped at least a couple of times because of Covid. This is the first genuine restoration of Michelangelo's Pieta during nearly 470-year existence, with the exception of the work carried out after his death in the hands of Tiberio Calcagni.
The restoration took place on open the public construction sites Conservators restored the sculpture to a full view of the public. Until March 30, 2022, the site of restoration will remain open to visitors, and they can view the newly restored Pieta close-up in a unique way through guided tours.
The Bandini Pieta depicts the dead body of Jesus lying in the arms of his mother, Mary, with the help of Nicodemus, who was one of those who took Jesus at the foot of the cross, and Magdalene helps. There is a belief that Nicodemus, who is depicted in the image of an older man, is a self-portrait by Michelangelo, who was 70 years old at the time.
The marble sculpture group originally was part of the Bandini family from Rome (hence its name) before it was acquired by Grand Duke Cosimo III de Medici in 1671. It was first exhibited within San Lorenzo, and it was relocated to the Duomo in 1722. It has been part of the Opera Museum since 1981.
This is the 3rd Michelangelo's Pieta, The most famous one being who was performed at St. Peter's in Rome as well as the Rondanini Pieta located in the Sforza Castle in Milan.