Accademia Gallery
Galleria dell'Accademia, which houses Michelangelo's David, is one of the highlights of Florence's incredible art scene. Michelangelo's awe-inspiring David was carved from white Carrera marble between 1501 and 1504 and seems to burst with life, with perfect depictions of the hero's muscles and ligaments. A stunning array of musical instruments surrounds Michelangelo's David that was originally displayed in the Piazza della Signoria, alongside works by Ghirlandaio and Botticelli.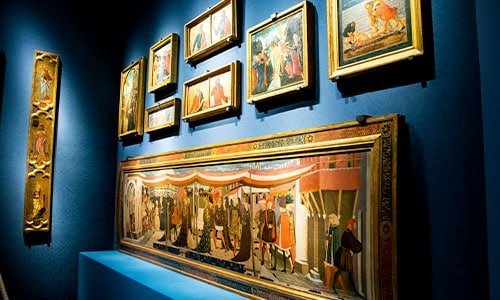 Histry of the Accademia Gallery
The Accademia Gallery, founded in 1784 by the Grand Duke of Tuscany Pietro Leopoldo, evolved from the Academy of Drawing Arts established in 1563 by Cosimo I de' Medici in Florence. As a result, the new institution now occupies the fourteenth-century Hospital of San Matteo and the Monastery of San Niccolò di Cafaggio.
The museum expanded after Pietro Leopoldo and Napoleon Bonaparte suppressed churches and convents in 1786 and 1810. In August 1873, Michelangelo Buonarroti's David was transferred from Signoria square, which marked the turning point in the museum's history. The world's most famous sculpture ( David ) waited nine years in a wooden box, while architect Emilio De Fabris constructed his Tribune.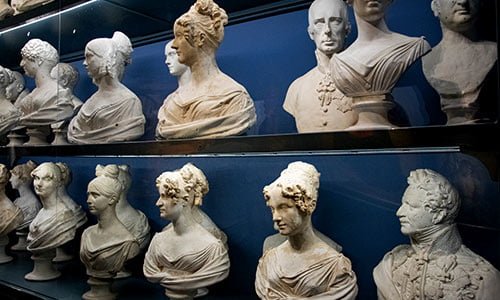 The Gallery is also well known for its display of other Michelangelo sculptures, such as his Prisoners and St Matthew. Aside from the collections of paintings and sculptures, the Gallery also has a Gipsoteca (plaster cast Gallery) housed in the monumental Salone dell'Ottocento that contains plaster casts and models made by Lorenzo Bartolini and his student Luigi Pampaloni. Additionally, there are musical instruments in the museum that belonged to Tuscan Grand Dukes both Medici and Lorraine, most of which were in the Florentine Conservatory Luigi Cherubini.
Accademia Gallery Guided Tours 2023
accademia florence highlights
As soon as you enter the museum, you will find yourself in the Hall of the Colossus. An original plaster cast model of Giambologna's 1582 Rape of the Sabines is on display in the center of the room. The original sculpture can be found in Piazza della Signoria's Loggia dei Lanzi.
You can then visit the Gallery of the Slaves, where Michelangelo sculpted four large statues for Pope Julius II's tomb. Michelangelo's sublime technique can be analyzed and reconstructed through this group of sculptures. In the Gallery, you can view works by Botticelli, Perugino, and Pontormo that date from the 13th to the 19th centuries.
You will enjoy your visit most when you meet David. The sculpture is located in the center of the gallery to emphasize its full power. It began as a marble block 5 meters high and became the symbol of Michelangelo's art. The masterpiece combines strength, intelligence, passion, and cunning!
ACCADEMIA TICKETS RESERVATION – PRICES & INFO
The entrance ticket to the Accademia Gallery can be booked online in advance, so you won't be required to wait in line when you visit the museum.
TICKET PRICES – WITHOUT RESERVATION
Full ticket: € 13.00
Reduced ticket: € 3.00 (European Union citizens between 18 and 24 years old)
Free ticket: € 0.00 (children under 18 years of age)
Admission to the Gallery ends 30 Mins minutes before closing time
You can make a reservation by calling the following number:
Firenze Musei: Tel. +39 055 294883
If you purchase tickets in advance, you will have to pay an additional € 4.00
Opening hours
From Tuesday 21 June the Museum's opening hours are from 8:15 am to 6:50 pm.
On Tuesdays, from June 21st through August 2nd, the Museum will offer extended hours, closing at 10 pm, (admission fee). Last admission at 9.30 pm.
Closed: January 1, December 25, every Monday
Entrance to the Accademia Gallery is allowed every 15 minutes.
Why is the Accademia Gallery important?
In Florence, Italy, the Accademia Gallery is an important art museum. As well as Michelangelo's David. The gallery also features sculptures by Michelangelo, Renaissance paintings, and one of the largest collections of gold background paintings.
What is the best time to visit the Accademia Gallery?
Visit the Accademia Gallery early in the morning (it opens at 8:15 am) or around 5:00 pm if you want to avoid the crowds. During spring or fall, between February and May or September to November, is the best time to visit.
Is the Accademia Gallery wheelchair accessible?
There are several steps that have been taken by the Accademia Gallery to ensure that guests with disabilities will be able to relax and enjoy their visit.
How much time do you need at Accademia Gallery?
It is sufficient to spend 1-2 hours in the gallery. Some visitors will not need more than thirty minutes to explore the Accademia Gallery, while others seeking a more in-depth experience will need more time.
USEFUL INFORMATION
---
Opening days and times 2023
Open from Tuesday to Sunday from 8.15 am to 6.50 pm.
Closed on Monday, January 1, December 25.
Free admission on the first Sunday of the month.
Ticket Price
Full ticket: € 13.00
Reduced ticket: € 3.00 (European Union citizens between 18 and 24 years old)
Free ticket: € 0.00 (children under 18 years of age)
---
How to get there
Address: Galleria dell'Accademia di Firenze, Via Ricasoli
58/60 50122 Florence, Italy.
Book online
Accademia Gallery Guided Tours 2023
Accommodation in Florence
---
Explore the Accademia gallery and its history
There is so much to learn about