VISIT FLORENCE MUSEUMS
The top museums and important information to know in 2023
Visit Florence Italy
Welcome to visitflorencemuseums.com, the online museum guide dedicated to the city of Florence. Our friendly and knowledgeable team will be happy to give you all the essential information regarding some of the most important museums in Florence.
With us, you can book skip-the-line tickets and guided tours. When you purchase a skip the line ticket or guided tour, you will be able to enter the museums more quickly without waiting in long lines and enjoy the artworks for longer. This Florence travel guide will provide you with all the information you need to enjoy your stay to the fullest.
WHAT TO KNOW ABOUT FLORENCE, ITS FACTS, AND HOW TO TRAVEL THERE
The city of Florence ( in Italian "Firenze", in Latin "Florentina" ) was founded on the site of two ancient settlements: Etruscan and Roman (founded in 59 BC). In the early Medici period (between the 15th and 16th centuries), this Tuscan city became a symbol of the Renaissance through its extraordinary economic and cultural development levels.
The city's historic center extends over 505 acres and is surrounded by the remains of the 14th-century walls. In addition to the walls, there are two strongholds built by the Medici: The Fort of San Giorgio del Belvedere located in the south, and the Fort of Saint John the Baptist located in the north, known as "da Basso". Its banks are connected by a series of bridges, including Ponte Vecchio and Ponte Santa Trinita, which cross the Arno River east and west.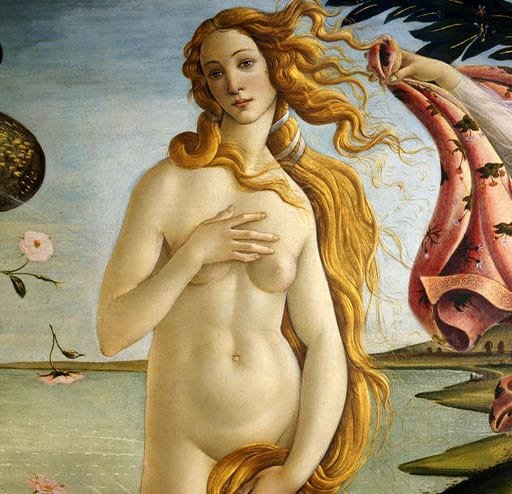 There are remains of seven centuries of cultural and artistic flourishing in the 14th-century Cathedral of Santa Maria del Fiore, the Church of Santa Croce, the Palazzo Vecchio, the Uffizi Gallery, and the Palazzo Pitti. Artworks by Giotto, Brunelleschi, Botticelli, Leonardo da Vinci, and Michelangelo further illustrate the city's history.
As we watch a lover for hours, there is Florence dressed with its art, in its unique architecture and the works of its museums; Florence dominated by the grace of the 17th century when beauty and inspiration reached their zenith.
As a matter of fact, its historic center was inscribed on UNESCO's World Heritage List in 1982. Although the city has also developed newer sectors such as information technology, tourism is by far the city's biggest industry.
Who were the De Medici?
The Medici family was a prominent wool merchant and banker in Florence Italy. Their businesses were both extremely profitable, and they became extremely wealthy as a result.
The Medici bank was founded by Giovanni de Medici, who became the first prominent member of the family in Florence. In addition, he led the Florence merchants. In 1434, his son, Cosimo de Medici, assumed the leadership of Florence city. Florence was ruled by the Medici family until 1737.
It is the Medici who are known for their patronage of the arts. When wealthy individuals or families sponsor artists, it is known as patronage. The Medici family paid commissions to artists for major works of art. In the Renaissance, the Medici patronage allowed artists to focus on their work without worrying about money.
It was not just the arts and architecture that were supported by the Medici. Additionally, they supported science. It was they who supported the scientific endeavors of Galileo Galilei. Also, Galileo tutored the Medici children.
Events in Florence Italy
Florentine residents and tourists can enjoy numerous concerts, theatrical performances, and other special occasions throughout the calendar year in addition to the regular tourist attractions. Here are some of the main festivals and annual events in Florence.
Easter Sunday – "The Explosion of the Cart"
This is the first major folk festival of the year. A string of white oxen pulls a cartload of fireworks from Porta Prato to the Duomo. The whole cart is set on fire by a mechanical dove descending by wire from the high altar. Initiated by the Florentine leader Pazzino de' Pazzi during the first crusade, this event dates back centuries.
Spring & Autumn – Exhibition of Plants & Flowers
There is an important exhibition and market that takes place in the Giardino dell'Orticoltura every year.
Festival of the Cricket – Ascension Day, Parco delle Cascine
An old tradition of pagan festivities has given rise to the Festival of Cricket. Nowadays, because of complaints from pro-animal associations, you won't find anyone selling wooden cages containing crickets among picnickers and sports enthusiasts.
In the days before the prohibition order, after being jailed in these wooden cages, crickets were finally released onto the grass. There was a time when men would place crickets in front of the door of their lovers in order to dedicate a serenade to them.
Costume Football Game – Final 24th of June, Piazza Santa Croce
This is one of Florence's most historic events. Soccer is claimed to have been invented by the British, however, locals contend that it dates back to Roman times and a game called "Arpasto", which was played by Roman soldiers.
A magnificent historic parade runs through the streets of the town before the games. Each of Florence's historic four quarters fields a team, much like Siena and the renowned Palio.
The Florentine churches
There is an endless amount of treasure to be found in the churches and cathedrals of Florence Italy up to this day. A lifetime would probably not be enough to see all of Florence's churches, which include the world-famous Duomo and the smaller churches like Santa Felicita.
There are so many paintings, sculptures, relics, and other things to see in Florence's churches, that it would probably take a lifetime to count them all.
The Duomo di Firenze, also known as Santa Maria del Fiore, is the main church of Florence. It was built in 1296 in the Gothic style by Arnolfo di Cambio, and the dome was constructed by Filippo Brunelleschi in 1436. A polychrome marble paneling covers the basilica's exterior in various shades of green and pink.
The Strozzi Chapel, which is inspired by Dantes' La Divina Commedia, is the most famous feature of the Santa Maria Novella. Santa Croce Church houses the tombs of Michelangelo, Machiavelli, and Galileo. Basilica di Santo Spirito, one of the most important churches in Florence, is located in Oltrarno. The Orsanmichele is a loggia originally built to house a grain market but later transformed into a church.
BEST FLORENCE TOURS IN 2023
Accommodation in Florence
READ OUR BLOG
Best way to visit Uffizi Gallery – valuable tips for visiting the Uffizi Gallery in Florence Visiting the Uffizi Gallery in Florence is a must-do experience…
---
Florence museum tickets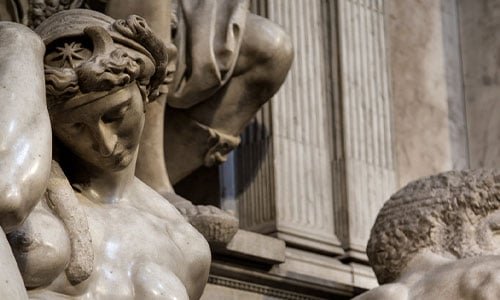 Medici Chapels
A total of 50 members of the Medici family are buried in the Medici Chapels, located in the basilica of San Lorenzo.
---
What is the best way to get to Florence Italy?
It is not surprising that this historic town has produced legends such as Michelangelo and Leonardo da Vinci. Greatness is what you can expect here. Among the best European masterpieces can be found in the Uffizi gallery and the Accademia Gallery, especially David's marble monument. Experience the rich history of this ancient Etruscan settlement by strolling the streets of the Historical Centre.
Florence Italy can be reached by train from many cities such as Rome, Milan, Napoli, Venice, etc. with fares starting from around €20.00. To get to Florence quickly and comfortably, we recommend taking the train from the city we mentioned above. In comparison to the train, the bus appears to be a cheaper and faster alternative, but this option requires additional transfers. Taking a flight is another option for getting to Florence. There is a small airport in the city called Amerigo Vespucci Airport.
---
Where in Italy is Florence located?
Florence is located 172 miles north of Rome and 185 miles south of Milan. There are traffic jams in Florence's peripheral areas, but it isn't a huge city. Approximately 400,000 people live in the city, and 200,000 more live in suburban areas.
---
best time to visit Florence Italy
Florence is a beautiful city full of things to see and do, and it is definitely a place worth visiting. There will never be a moment when you feel bored. It is a very popular city all year round, but some months are warmer or wetter, and some attractions, shops, and sights do not remain open.
Aside from that, certain seasons offer better prices on flights and accommodations. You might not enjoy your trip as much if you are not prepared. It is important to know the best time to visit Florence Italy if you plan to visit this stunning city.
Low Season: During the winter months of December and February, Florence is in the low season. Some people think this is the best time to visit Florence. Winter travel doesn't drop as much as you might expect because many tourists enjoy visiting during the Christmas season.
There are wonderful festivities, affordable airfares, and lower lodging rates during the holiday season. You can also take advantage of substantial discounts to save on your travel excursion. It's a great time for travelers who don't like severe colds but want to avoid breaking their budgets on travel. Since there is little chance of snow, it's an excellent time for travelers.

High Season: During the summer months of May and August, Florence's high season begins, but despite what you may expect, temperatures can become very hot and humid at this time of year. September is also considered the high season due to the ideal weather and the proximity of the international tourist season.
While August is part of the busy international tourist season, local tourists are off to the beach or mountains during this month. A trip to Florence Italy at this time is very expensive, as airfares and accommodation rates will go up to capitalize on all the new visitors.
Shoulder Season: There are two segments to Florence's shoulder season. Typically, it starts in March and ends in mid-May, then picks up again in October and November. This is the spring and fall season, so the weather is generally pleasant during these months. There is no better time to visit Florence than this unless you are coming at a specific time. Spring comes alive in the countryside and city when festivals like Easter and Harvest are celebrated.
---
This video guides you through Florence Italy, the city of the Renaissance