Best way to visit Uffizi Gallery – valuable tips for visiting the Uffizi Gallery in Florence
Visiting the Uffizi Gallery in Florence is a must-do experience in life. Here are our tips for thoroughly enjoying the visit.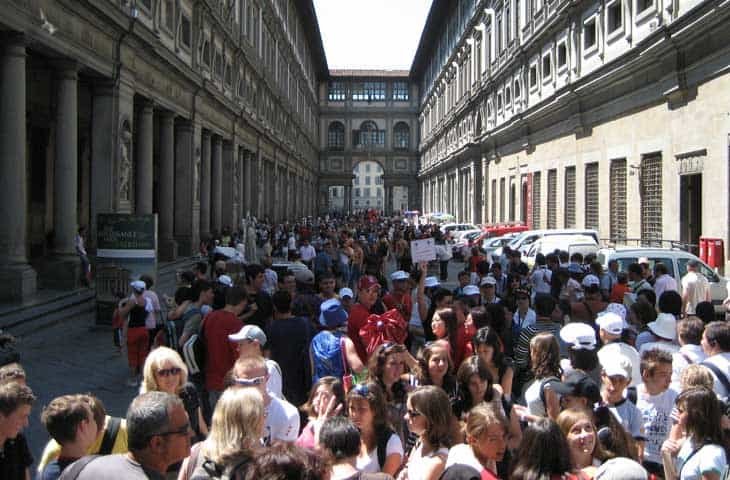 Giorgio Vasari designed The Uffizi Gallery in the mid-16th century to house Florence's 13 most essential magistracies, known as "uffici." Today, it consists of 90 museum rooms that display the most significant and famous paintings in art history. You'll find works by Giotto, Leonardo da Vinci, Michelangelo, and Botticelli and numerous Flemish and Dutch painters exhibited in chronological order. A visit to this museum is a true journey through time through art.
However, visiting the Uffizi is a challenging task:
The lines can be kilometers long.
There's a lot to see.
Knowing where to start is often challenging, and the visit can be lengthy.
Keep reading to discover the Best way to visit Uffizi gallery and 7 valuable tips for visiting the Uffizi Gallery in Florence:
Plan your visit in advance:
Florence is always in high season, and people worldwide daily wait for hours in lines to enter the museum. That's why booking your visit in advance is advisable:
Choose the date and time slot.
Keep the booking confirmation email.
Go to the ticket office on the day of your visit to collect your tickets.
This way, you'll be able to avoid the long queues and enjoy this experience without too many worries.
How much time is needed to visit the Uffizi?
You would need more than one day to give proper attention to all the wonderful artworks in the museum. However, as a general guideline, plan to spend anywhere from 2 to 3 hours up to an entire half-day at the Uffizi Gallery. Of course, you can adjust the visit according to your needs: if you have limited time, make sure to create a list of the 10-20 must-see artworks to avoid getting lost in the vastness of the collection.
Best uffizi gallery private tour – 2023
Plan your itinerary:
It is impossible to see the entire gallery collection in just one day. Fortunately, some works are more important than others or attract more interest and attention. If you prefer a visit at your own pace, make sure to select the must-see artworks. If you need help figuring out where to start, we have prepared a small guide of the most famous Uffizi artworks that you can follow to create your itinerary.
However, our preferred alternative, which we always recommend in such cases, is to join a guided tour. It's a way to immerse yourself in art, be guided by an experienced person, and relax at the same time.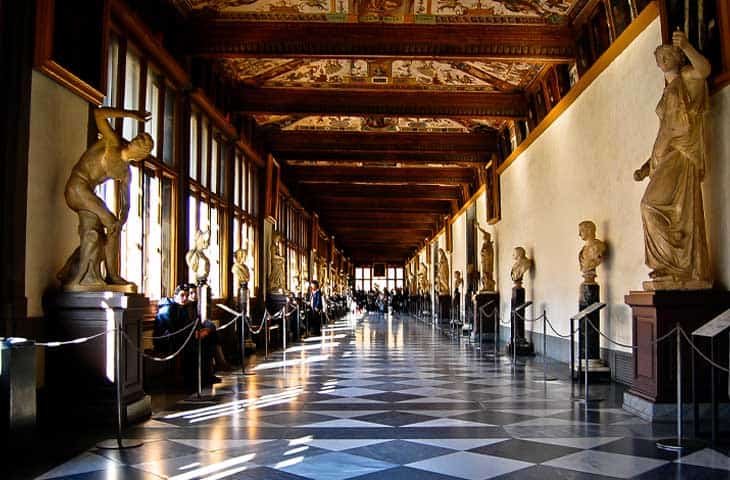 Best way to visit Uffizi Gallery?
There are many options for visiting the Uffizi, and the offerings cover every type of requirement. However, here are the most popular types of visits:
Skip-the-line entrance: This type of ticket allows you to bypass the queue at the Uffizi entrance and provides a convenient audio guide during the visit.
Guided tour: This is always our preferred option. A guided tour inside the museum will allow you to enjoy the experience without worries and stress.
Online visit: If you can't go to Florence in person, don't worry. In fact, on the museum's website, you can virtually visit the Uffizi through interactive paths, virtual galleries, and online events.
Wear comfortable shoes and turn off the camera flash:
It may seem like a trivial suggestion, but remember that you will spend many hours on your feet inside the museum, walking from one painting to another, from one gallery to another. Our advice is to wear comfortable clothing and, above all, comfortable shoes to avoid unnecessary fatigue
. Additionally, using the flash and selfie sticks is strictly prohibited in the gallery.
Best guided tours of Uffizi Gallery – 2023
Take a well-deserved break:
After hours of visiting, it's understandable if you need a short break. In this regard, you'll find some benches along the corridors under the windows in the first section of the galleries and inside some rooms like the Botticelli Room. They provide a place to rest while admiring the artworks. If you want to take a proper break, have a drink, and recharge, head to the museum's cafeteria at the end of the galleries on the first floor.
Experience something unique, and don't miss other iconic attractions in Florence:
In Florence, there are so many beautiful attractions that it would be a shame to miss any of them. That's why our suggestion is to consider combined tours that combine a guided tour of the city with visits to the Uffizi and the Accademia Gallery, or even the Uffizi Gallery and the Santa Croce Church. If you find yourself in other Tuscan towns, guided tours are available that include transportation and take you to the Uffizi for a day visit, such as from Lucca or Pisa.
Uffizi Gallery skip the line tickets – 2023